The 2nd IROAST Seminar – International Symposium on PROTINUS – held on July 7
Jul 11, 2017
The 2nd IROAST Seminar – International Symposium on PROTINUS –  was held on July 7.
At the beginning of the Seminar, Prof. Jun Otani, IROAST vice director, introduced the organization after his welcome speech. Then seven researchers including five belonging to PROTINUS from France and New Zealand gave talks. One of them was Dr. Patrice Delmas from University of Auckland, an IROAST's visiting professor. His presentation title was "Kriging in the context of soil science.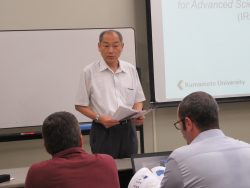 Introduction of IROAST by Prof. Otani
Prof. Delmas' Presentation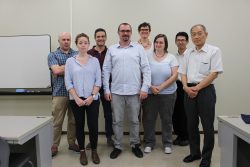 Speakers: from left,
Patrice Delmas, Serena Bertoni, Fabrice Golfier, Laurent Oxarango,
Celine Duwig, Anne-Julie Tinet, Toshifumi Mukunoki and Jun Otani.